THE ADJUSTABLE ANKLE COMPRESSION BRACE YOU'LL WANT, NOW ON OUR STORE
We're added more (so you can get more). Introducing our new Adjustable Ankle Compression Brace.
Discover a product assortment that meets today's demand and trends, all sourced from the highest quality and design. Buy at just $17,16.
Learn more about our special item below.
ADJUSTABLE ANKLE COMPRESSION BRACE INFORMATION
Material: Composite sbr diving material
Size: 13*10*1
We hope the incredible Ankle Compression Brace we offer will make you happy with the purchase! After all, this attractive range of features looks very promising, doesn't it?
PRODUCT QUESTIONS & ANSWERS
Does it have an unpleasant odour?
Don't worry! We don't use any production resources that might lead to this, so don't hesitate to order our Adjustable Ankle Compression Brace.
Does your supplier use any toxic materials during the Ankle Compression Brace production?
When manufacturing our Adjustable Ankle Compression Brace, we use only quality materials. So, there's no reason to worry.
I'm not sure I'm ready to buy it. Is this the right price?
It's up to you to make the final shopping decision. However, we'd like to point it out that $17,16 is quite moderate in comparison to other market offers.
The Ankle Compression Brace can't be so cheap. Do you save on quality?
We work directly with the suppliers. Thus, we are able to cut down the expenses on logistics.
I'm unsure that the Pain Sprains and Strains Braces will suit me. Can I ask for a refund if it's the case?
Please, double check the Type and Size before ordering. However, if you still don't like the product, you can ask for a refund.
I kind of like the Adjustable Ankle Compression Brace. But am I making the right choice?
You have no reason to question your choice because this is one of the greatest market offers in terms of its value for money!
ORDERING & STORE POLICIES
What if I buy several of these? Will they all arrive together?
When you order multiple units of the same item, they arrive together (even if every unit is packed separately). So you won't have to wait for multiple deliveries at different days!
What if my package gets damaged or is lost during transfer?
There is no reason to be worried about it because you will either receive your package safe and sound or get a full refund.
If I want to change my order or call it off, what should I do?
There is nothing to worry about. You just need to contact our support managers and let them know about your issue, so that they could change or cancel your order.
Will the delivery take as long as you promise?
We do everything to calculate the delivery time as accurately as possible. However, the external factors influencing your local post office's performance may result in minor changes of the actual delivery time.
What makes you different from other stores?
Our main priority is to build friendly relationships with our clients. We do our best to make our business mutually beneficial both for us and our clients. That's why we always offer quality products and set fair prices.
Is it a safe deal?
Feel free to check the feedback of our previous clients at any moment. Thus, you'll see that there is no reason to worry about our reliability and security.
Cure weak ankles, sore, throbbing feet, & restore FULL mobility!
Discover stronger ankles with the Adjustable Ankle Compression Brace. Wear it for relief, prevention, and recovery of discomfort and foot injuries. Enjoy doing what you love pain-free and with ease!
ADJUSTABLE DESIGN
Loosen, tighten, and adjust the brace to your specific needs. It's all the support and compression you need — customized by you.
COMPRESSION THERAPY
Form-fitting compression material embraces your ankle to provide stability, preventing ankle twists or sprains. Experience relief today for achy ankles and arches.
✅PAIN RELIEF
✅AID RECOVERY
✅BREATHABLE & WASHABLE
COMFORT
Lightweight and breathable neoprene material keeps your foot comfortable and dry while retaining therapeutic heat.
BUILT-IN STABILIZER
Our stabilizer relieves muscle stiffness, soreness, and offers rejuvenating relief from arthritis, osteoporosis, tendonitis, sprains, pain, and discomfort — allowing you to walk and go about everyday life with the support you need.
BENEFITS
★ Stops foot pain and fatigue
★ Allows you to walk freely
★ Prevents ankle twists & sprains
★ Strengthens your foot, arch, and ankle
★ Helps you recover and heal from ankle injuries
TREATS THE FOLLOWING COMMON FOOT PAIN
Ligament sprains, plantar fasciitis, achilles tendinitis, overpronation, flatfeet, metatarsalgia, stress fractures, diabetic neuropathy (nerve damage caused by diabetes), heel spurs, and more.
Great for hiking, running, soccer, basketball, tennis, baseball, and other activities.
MATERIAL
Our brace is made of neoprene, spandex, and cotton.
SIZE CHART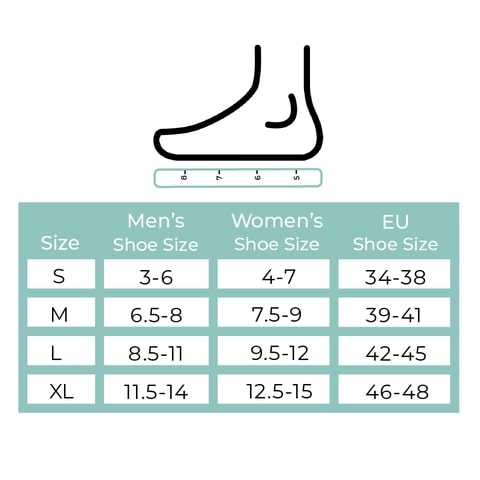 Double up with a pair for greater support!